APPLY - National Committee Route
Selection 2021/2022 (2022/2023 for Waterford Kamhlaba)
Selections 2021/2022 (2022/23 for WK) are officially open.
Eligibility Criteria:
In order to submit an application through the Tanzanian National Committee, a student needs to:
i. Be between 16 - 18 years old on 1st August 2021 (born on 01 Aug. 2003 or after)
ii. Be a Tanzanian citizen or permanent resident
iii. Have completed the CSEE exams by January 2021 or expect to complete IGCSE/GCSE, MYP, or the equivalent in 2021
iv. Demonstrate Academic excellence and a high level of participation & engagement within their communities
For the first stage of the application, prospective applicants are required to express their interest to apply by completing the form in this link (double click to open, or copy and paste https://forms.gle/kkcraH13RuQpqkCA8 to a fresh tab in your browser).
Deadline to submit the form is 11:55pm on Saturday 30 January 2021 (Dar es Salaam Time, GMT + 3hours)
Only complete applications with all required attachments (in the right formats) will be considered. Shortlisted candidates will be contacted for stage 2 of the application.
Should you have any further queries regarding selections, drop us an email at selections@tz.uwc.org.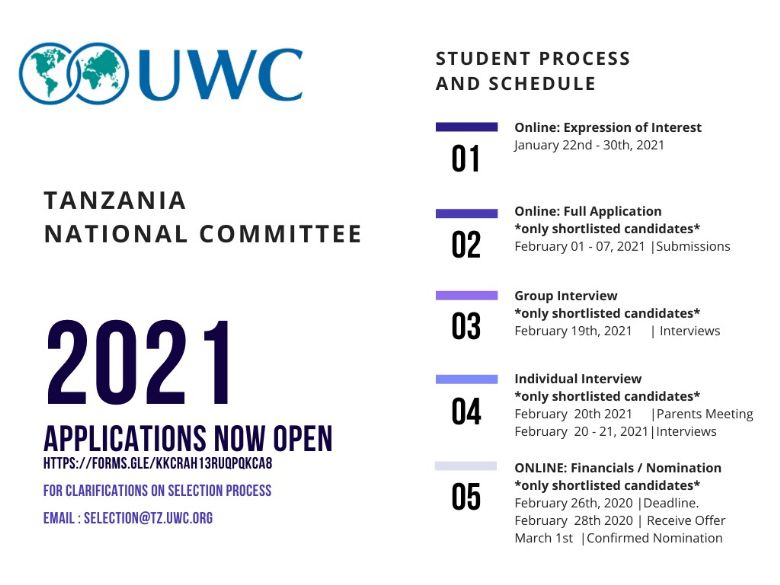 To apply through UWC Global Selection Program, see information about UWC Global Selection Program